Today, TJ Cox for Congress released a new ad, "Earned It" The ad highlights TJ Cox's fight to protect the earned benefits of Social Security and Medicare against efforts to bankrupt or privatize these vital programs which protect thousands of elders in the Central Valley.
In his first term in office, TJ Cox has helped over 100 constituents collect their benefits, and he will continue to fight against those who aim to cut Social Security and Medicare. TJ Cox will continue to protect and advocate for these seniors and veterans, and make sure these vital programs are available to future generations.
In Congress, TJ Cox fought to lower the cost of prescription drugs, keep Social Security strong, and allow public employees to keep their earned Social Security benefits.
"Earned It" will air on broadcast in the Fresno and Bakersfield markets and stream online throughout California's 21st Congressional District.
The Ad
V/O: "Can you imagine your Social Security and Medicare cut when you need it the most?
That's what David Valadao tried to do, siding with Donald Trump 99% of the time, including devastating plans to privatize them.
So TJ Cox fought back and took on the insurance and drug companies to lower prescription drug costs."
COX: "I'm TJ Cox and I approve this message, because you've earned social security and Medicare, and I'll always fight to protect it."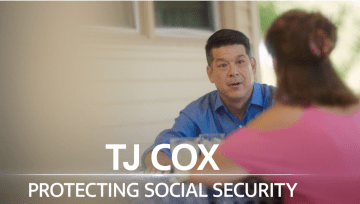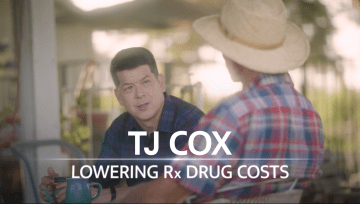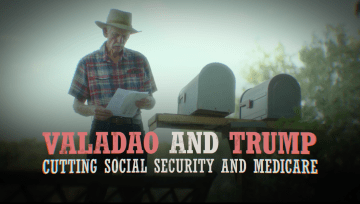 Background
TJ Cox is running for reelection to Congress in California's 21st District. He is a family man, engineer and small businessman with a passion for community development. TJ is married to Kathleen Murphy, MD, a pediatric intensive care physician. They are the proud parents of four children.